Hi Everyone!!
Things have been so super busy lately that I haven't had a chance to just say
THANK YOU
for all of the Anniversary and Birthday Wishes that so many of you have left for me over the last week.
You guys are the best!!! Really. I have so much fun everyday visiting your blogs and being inspired by all of your creations. And I cannot even begin to tell you how much I enjoy reading your sweet and thoughtful comments that you leave for me. They truly mean so much. I know my schedule is pretty busy everyday, so the fact that you took a moment out of your time to leave me a comment is a HUGE DEAL for me.
THANK YOU!!!!

I have some blog candy in the works, but I've not finished putting everything together yet!!
By the way, this is the week I leave for New York!!! (WooHoo!!) So if I'm not around much this week now you know why. I'll do my best to catch up with you all when I return. :)
In the meantime!!! I have SUPER EXCITING news!!
There's a new challenge blog in town!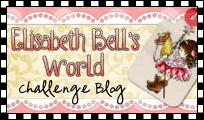 It will be a once a month challenge blog and I hope you will visit, become a follower and join us for our
1st challenge on October 25th.
(Just click on the blinkie above to take you to the new challenge blog. You will be allowed to use
ANY
Elisabeth Bell image on your projects!!! That means any Belles 'n Whistles, Whiff of Joy, Susana's Custom Art & Card Design, Ladybug and Friends, Elisabeth Bell Digital images....well you get the point. LOL
I can't wait!!!! I have the cutest project I've ever done, all ready for you to see!!! :)
Thanks for stopping by!!